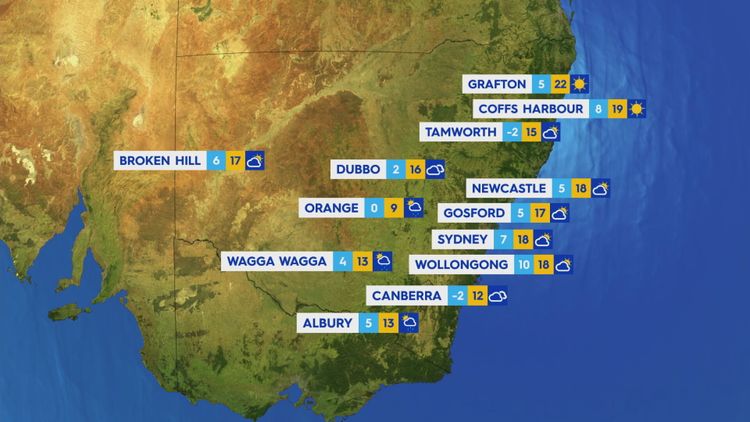 Temperature records across Australia continue to fall as the country shivers through an unseasonably cold May - and the wintery conditions are expected to stick around for a while yet.
This morning frost was recorded from eastern NSW, all the way up to northern parts of Queensland.
The chill comes off the back of a cold front, combined with clear skies, light wind and high pressure.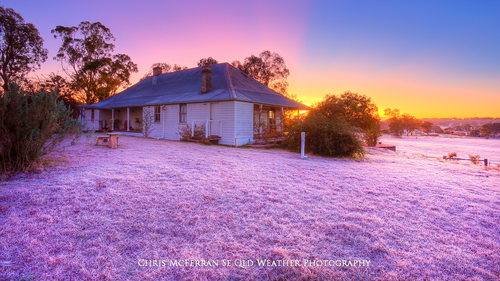 Photographer Chris McFerran managed to capture the frosty site at Queensland's historic Rosenthal Homestead in Warwick, in the state's south east, this morning.
He told 9news.com.au he had to brave extreme chill to capture the photo.
"At the Homestead, I had an air temperature of -1.8 and ground temp at 2.4.
"Interestingly, this is Warwick's 11th frost day in a row," he added, explaining he also caught a glimpse of the dust plume from the 2022 Tonga volcanic eruption.
"As the plume travels around the globe, it returned over our region this week and can be seen for a few minutes each morning and evenings as the sun lights it up before sunrise or sunset, in the upper atmosphere."
McFerran said conditions were even colder yesterday; the mercury dipped to a teeth-chattering -2.1 degrees.
A site near Rockhampton, which is technically in the tropics, also recorded a low of 0 degrees this morning, as records tumbled across other parts of the Sunshine State.
Woolshed clocked a minimum of 3.2 degrees - the town's coldest May morning in 22 years - while Gold Coast Seaway recorded 8.2 degrees, which is the coldest May morning in 19 years.
Records were also broken this morning at: Maryborough (1.9), Hughenden (0.8) and Clermont Airport (-0.2).
NSW hasn't been spared the chill either. 
At Lismore Airport the mercury dipped as low as 0.1 degrees, its coldest May morning in 17 years.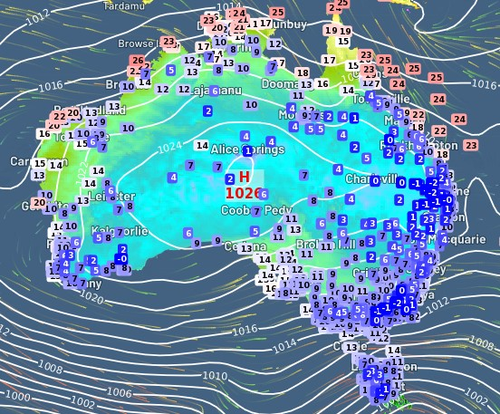 Frosty weekend sees May temperature records tumble
Record after record also fell on Sunday, with those in western Sydney particularly hard hit. 
"Bankstown dropped to a knee-knocking 0.7 degrees on Sunday morning," Weatherzone said.
"The suburb has averaged a minimum of 3.6 degrees in the last three days, making it the coldest three-day run in May in 47 years.
"Some Sydney suburbs even ventured into the negatives including –2.1 degrees at Camden, (its) coldest May morning in 14 years and coldest morning of any month in close to four years, and -0.1 degrees at Campbelltown,(it's) coldest May morning in 12 years)."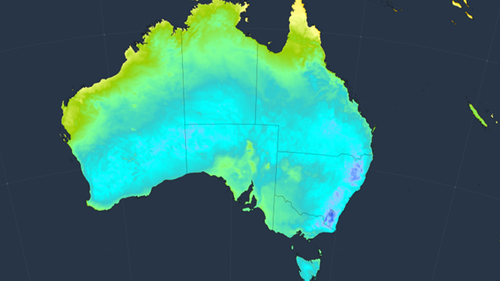 More impressive lows were seen across NSW and the ACT:
Newcastle recorded 6.5 degrees, its coldest May morning in 22 years

Gunnedah dipped to a chilly -4.3 degrees, its coldest May morning in 19 years

Bega, -1.9 degrees, marking its coldest May morning in 18 years

Bourke -0.6 degrees and Moree -0.7 degrees, coldest May morning in 12 years

Tamworth -4.8 degrees, its coldest morning of any month in five years

Canberra -5.4 degrees, the coldest morning since last winter.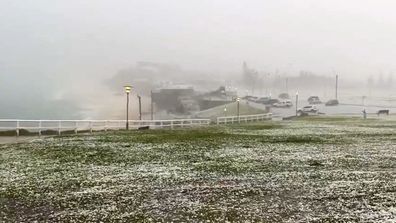 Newcastle smashed by massive hailstones
The worst of the cold hit on Saturday morning, with many capitals clocking their coldest May mornings in decades. 
By 5.30am on Saturday the temperature at Perth Airport had dropped to 1.1 degrees.
"(That's) the coldest May morning the airport has experienced in 59 years," Weatherzone said.
"This is only 2.4 degrees warmer than Perth Airport's record minimum of -1.3°C, which was set on 17 June 2006".
Temperatures also plummeted in Sydney.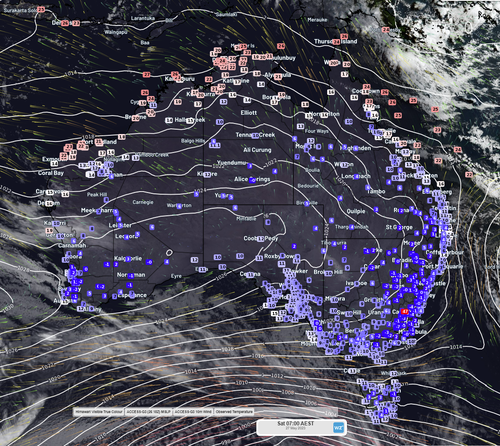 "Sydney's Observatory Hill recorded a temperature of 6.9°C at 7:04am – its coldest May morning in 24 years," the weather service said.
"Bega's minimum temperature of -1.6°C made for its coldest May morning in 15 years.
"Not to be outdone, Camden and Tibooburra recorded their coldest May mornings in 12 years , with minimum recorded temperatures of -1.2°C and 3.8°C respectively.
"Additionally, multiple locations across QLD, NSW, WA, and the NT registered their coldest May mornings in 5 to 11 years."
A brief reprieve from the cold
Weatherzone
confirmed a "slightly warmer airmass" would filter over the country from today, along with increased cloud cover.
But it's hardly going to be picnic weather.
Sydney will today see a minimum temperature of 10 degrees, while Melbourne will go as low as nine degrees.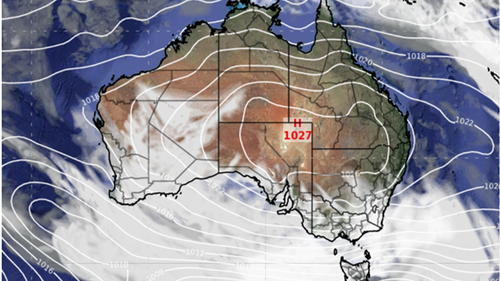 Residents of Brisbane (8), Perth (9), Adelaide (12), Hobart (8), and Canberra (4) will also need to dig out the winter woolies as the mercury plunges.
Darwin remains the warmest place in the country, with a minimum of 17 degrees predicted for today.
Weatherzone has predicted cooler temperatures again on Tuesday, but they won't be as frosty as the weekend's.
"You can expect minimums to bump upwards by a few degrees in most places, but nights will still feel pretty wintry this week, which is appropriate as winter starts this Thursday, June 1," Weatherzone said.
Sign up here
to receive our daily newsletters and breaking news alerts, sent straight to your inbox.