The remains of three new Pompeii victims have been unearthed beneath the towering shadow of Mount Vesuvius - almost 2000 years after its catastrophic 79 CE eruption.
The skeleton remains are believed to have belonged to two women and a child, aged between three to four years old.
The trio are believed to have died while seeking shelter in what is suspected to be a bakery, during the first stage of the eruption.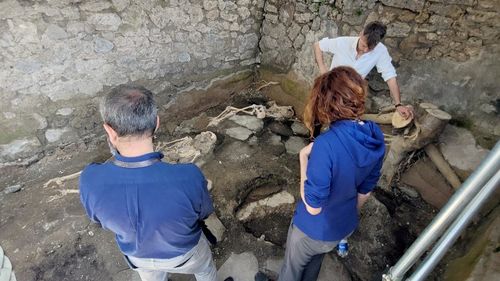 "In these last rooms the bone remains of three victims of the eruption have surfaced," a statement from Pompeii Archaeological Park said.
"Three Pompeians who had taken refuge in search of salvation and who instead found their death under the collapsed attics.
"The individuals were found in an already excavated environment, where only 40 cm remained of intact stratigraphy (earth).
"They rested in direct contact with the floor, and presented - together with evidence of important postmortem settlement processes - a series of perimortem traumas due to the collapse of the attic above."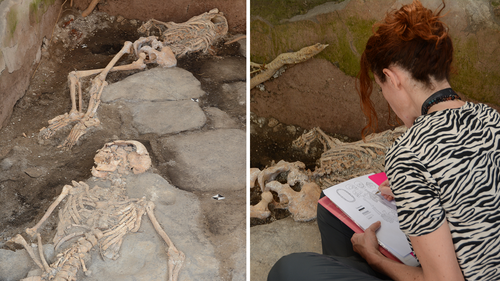 A structure with two intact fresco walls were also discovered as part of the ongoing excavations in an area called Regio IX, a commercial part of town.
One of the walls depicted the sea god Poseidon and Amimone, the other portrays the sun god Apollo and his first love Daphne, who swore to remain a virgin and spurned his advances.
The ancient Roman city was destroyed when Vesuvius roared to life the morning of August 24, 79 CE.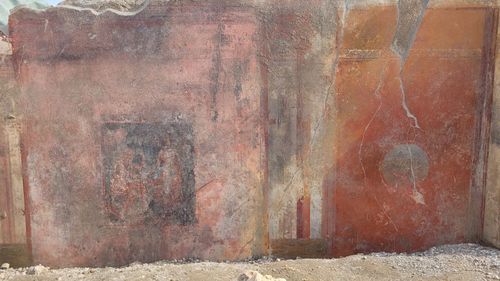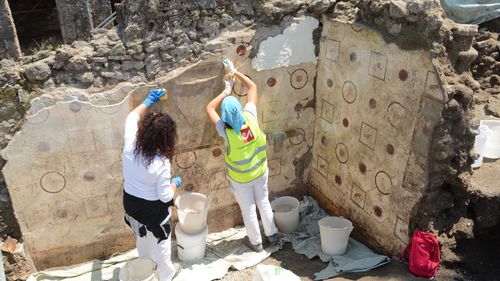 By lunchtime the volcano had sent a towering ash and debris cloud into the stratosphere, which rained pumice down on the town as earthquakes rumbled foundations.
This is known as the Plinian phase, which lasted for about 20 hours, and is thought to have been when the three victims perished.
Destruction came for Pompeii in the second eruption stage, known as the Pelean phase.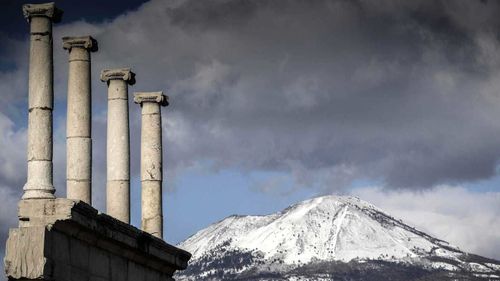 Pyroclastic surges of molten rock and hot gases surged down the volcano's slopes, burning and asphyxiating people before they had a chance to flee, burying the city.
The eruption is said to have released 100,000 times the energy of the Hiroshima-Nagasaki atomic bombings in World War II.
It's estimated 2000 people died in Pompeii.
However, the exact death toll from the eruption is not known as casualties also occurred in the nearby settlements of Herculaneum, Oplontis, and Stabiae.
Sign up here
to receive our daily newsletters and breaking news alerts, sent straight to your inbox.